Bubble shows from the world champion
Unique bubble show for your event
Who as a child was not inspired by shining soap bubbles?
Do you remember the nice dance of the lather in all colours of the rainbow?

Paper-thin and featherweight they work like a thing from a distant world of fantastic magic and imagination.
Wouldn't it be wonderful to experience this world on your special day or a special event?
Our original top show for your event would like to bring you to one of such fantastic worlds.
The original - soap bubble rain the show in the miracle world of the soap bubbles!®
The soap bubbles and world champions team Iryna and Alexander created on the base of an enchanting formula an event soap bubble show.
This show is our original and unique product. You will see many tricks for the first time and you will be amazed endlessly by their dramaturgy! Our colourful shows will let you and your guests see a sphere beyond the time in which only warm and positive feelings exist, how by the best days of your childhood.
You can only believe it, if you have seen our show.

Then you will never forget it!
Brilliant performance with beguiling pieces of art made of soap bubbles
Our professional event artists provide the most pleasant amusement with their captivating and shining Show Event to you! Moreover, we present to you two unusual show inserts in which jugglers let balls fly in the gleaming moonlight followed by a thrilling step-dancing – of course in the rain of shining soap bubbles!
We offer to your attention a real show, which includes tricks with soap bubbles, which will be represented in Germany for the first time, juggling with balls by world champion, step dance with an umbrella and cane under bubble`s rain.

A unique feeling will make your event unforgettably
Let yourself be overwhelmed by our soap bubble artists with some really astonishing tricks made of sparkling lather.
Right before your eyes they will let arise soap bubbles in the most different forms and dimensions.
Iryna & Alexander will fill soap bubbles with haze, perform climbing up bubbles and giant-soap bubbles.
Our soap bubble artists will also Juggle with luminous soap bubble balls. Using astonishing magic we let a table float right above your head!
Bubble show as a wedding present for your wedding.
A romantic fairy tale for a fairy tale wedding!
The wedding pair will be wrapped up by a tender and gleaming fairy tale dream. Since it is a part of the Wedding Bubble-show insert: Bride and bridegroom be surrounded by a gigantic soap bubble, the MegaBubble.
Imagine what a nice theme for a photo the gigantic soap bubble with the wedding pair in it would be.
A kiss of the wedding pair in a shining cover of a MegaBubble is maybe the most graceful and most romantic picture of all!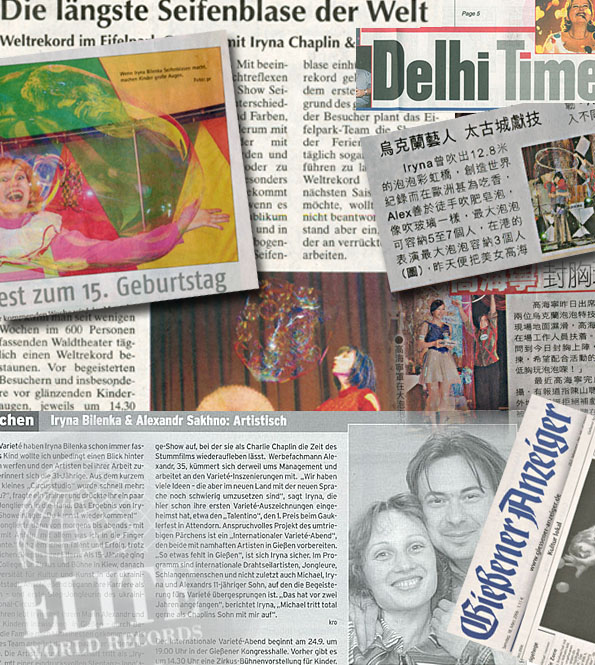 The official world record 2009 - "Longest Rainbow-Shaped Soap Bubble of the world"
Convince yourself and watch how Iryna & Alex create soap bubbles with a diameter from up to 150 cm right before your eyes! The next moment you'll see our event artists will make a magnificent soap bubble rainbows of many metres! Then before eager audience our artistes will present the most beautiful soap bubble of the world. In this Iryna and Alexander hold because the official world record!